Meet Mark D., the last yogi
?‍♂️
we interviewed for
⭐️
Get To Know Your Customers Day!
⭐️
.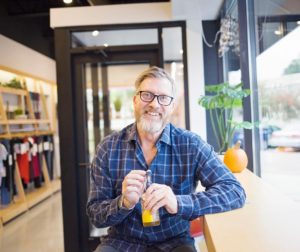 ??
Favorite pose and why?
?‍♂️
Cresent lunge. I like the transition into the pose because it uses both flexible strength
??
and works on stability.
?? Why yoga? ☝? First and foremost I really enjoy the community as a whole. ? The daily movements ?‍♀️ allow me to maintain a desirable level of balance ⚖️ and muscle tone. ?? .
?? What have you learned about yourself on the mat that is applicable to life outside the studio? A daily practice reminds me that it is just practice and there is no need to look for a finish line to get everything you need out of it. ? ?? The instructors often remind the class just do what is right for you and that works all day every day. ?? .
?? Have you noticed any difference in your body or overall health since you started practicing yoga? Yes! ‼️ The everyday aches and pains associated with life are less noticeable and recovery is much swifter. ?? Muscles have lengthened and general flexibility have improved. ?.
?? When you're not on your mat, where can we find you? I have 3 kids so I still spend a lot of time ⏰ taking care of their needs. When I get free time and the weather is nice ☀️, I can be found paddle boarding on local lakes or out riding the Minnesota or Wisconsin back roads on the Harley. ? If the weather is bad ❄️⛈ I can be tempted to get on a flight ✈️ out west to sunshine. ☀️.
?? Tips for a new student who has never been to Pressed? That's an easy one. ☺️ All of the staff at Pressed are wonderful. ❤️ Each brings a slightly different vibe to the class, so come and try as many instructors and classes as possible. ?? The other students I have shared class with are all kind and considerate and a very diverse group, so every one fits in. ? .
#pressedmn
#pressedhotyoga
#gettoknowyourcustomersday
#weloveourcustomers
https://pressedmn.com/wp-content/uploads/2018/10/44728428_511884639311499_6040579585781792768_o.jpg
908
1080
Monica Nepote
http://pressedinc.wpengine.com/wp-content/uploads/2017/09/Pressed-Juice-Yoga-Combined-Logo-1.png
Monica Nepote
2018-10-26 18:54:12
2018-10-26 18:54:12
Get to Know Your Customers - Mark D.