1 Week FREE
+ 2-Weeks Unlimited Classes
for only $30!
Beginning Your Yoga Practice
Yoga is a low-impact exercise that increases flexibility, reduces stress, and builds strength using your bodyweight as resistance. Yoga is for everybody. A wide range of people practice yoga from football players and golfers to runners and gymnasts. The practice teaches you how to move in new ways, and deepens your understanding of your body. Pressed Hot Yoga offers classes for all levels, so you'll always find a yoga class to find your needs.
How to Prepare for Your First Pressed Hot Yoga Class
Check out our class schedule. No reservations required, but classes do fill up.
Check in 15 minutes early. We open up classes to walk in students at 10 minutes prior to class start.
Bring a mat, water bottle, and towel or rent them from our studio.
Wear fitted exercise clothes that you feel comfortable moving in.
Late arrivals are honored up to five minutes after start time. If possible, please call ahead and we'll put a mat out for you.
Cancellation policy: full payment of class reserves your space. There are no refunds, but if you cancel 2 hours prior to class start, your payment is transferred to a studio credit.
Selecting Your First Yoga Class
Getting into the right class on your first visit, especially if you're new to yoga, can make or break the studio experience. Set yourself up for success by choosing a class that makes sense for your experience level and goals. For new practitioners we recommend Hot Vinyasa 1 or Gentle Flow, or our Beginner Workshop.
If you need help choosing a class, email us at [email protected] and we can recommend a class to fit your needs.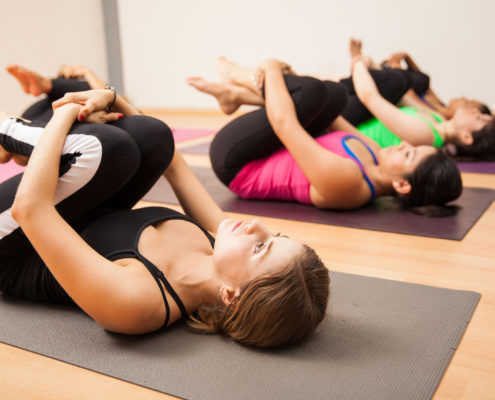 WHAT YOU CAN EXPECT AT PRESSED HOT YOGA
Whether it's a yoga class or first day at a new job, the unknowns of a first experience are stressful. At Pressed Hot Yoga, we want you to feel welcome and confident in your decision to practice with us. With this in mind we developed a yoga and fitness program that is challenging yet accessible, and designed a space for your practice that is clean, comfortable and functional. Come curious, and leave feeling stronger and more whole.
Skillful Instruction
All of our yoga teachers hold a minimum certification of a 200-hour Yoga Alliance approved program. Each has his or her own unique teaching style, but all emphasize safety, alignment and fun in the classroom. Take advantage of the variety of yoga and fitness classes during your first two weeks with Pressed Hot Yoga and try a variety of teachers to see what really works for you.
Studio Amenities
We're always prepared – even when you're not. We offer mat and towel rental service, so even if you walk in empty handed, you'll be ready for class. You'll also find the latest trends in active wear, as well as other items you may need in class, available for purchase in our well-stocked retail boutique. In addition, our zen and locker rooms ensure that you always have a place to gear up or wind out, even if you're new to yoga.
Take advantage of our Introductory Offer of 2 weeks unlimited classes for just $30. You will be prompted to create a user profile and complete your purchase. Plan to arrive to your first class 10-15 minutes early so you have plenty of time to become oriented, settled and ready to experience your first class. If you prefer to sign up in-studio, simply arrive 15-20 minutes before class. We are delighted to assist you.
Where do I keep my things?
Cubbies are available in the zen room or lockers are available in the our locker room for use during class. Our staff in the Juice Bar will keep customers out of the yoga studio area to keep students personal belongings secure. Turn off your cell phone and leave it in a locker during class. Phones not permitted in class studios at any time.
Can I buy water at the studio?
In keeping with our commitment to reducing waste, Pressed does not sell water bottles, though we do have a filtered water dispenser. Bring your own bottle and fill up in the studio.
Wear comfortable clothing that you can move in. Yoga is practiced barefoot. We ask that you leave your shoes in either a cubby in the zen room or in the locker room when you enter the studio.
Do I need to bring a yoga mat?
We have mats and yoga mat towels available for rental for $2 each. You can also rent the mat & towel together for $3.
Our locker rooms offer showers and changing areas.
Do teachers offer hands-on adjustments?
Sometimes teachers and assistants teach with their hands. If you prefer not to be touched, simply mention that to the teacher before or during class.
Remember, the only thing you are obligated to do in a yoga class is show up and breathe.
Everything else is optional.